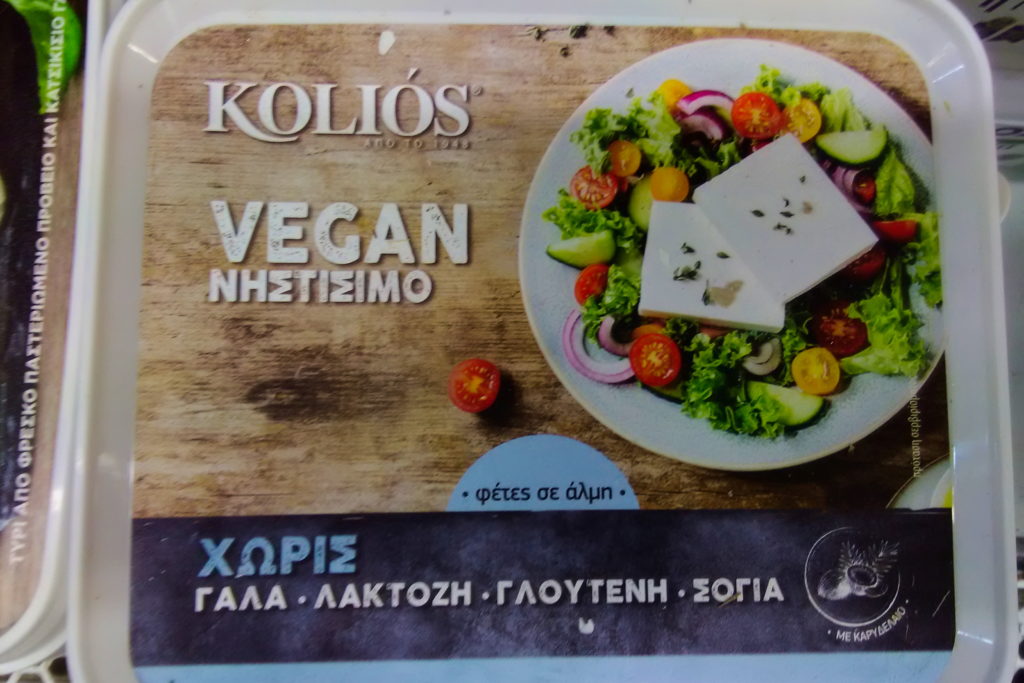 When we travel we usually book an accommodation with a kitchen: in Asia we usually just need it to use the fridge, make a smoothie and have a cup pf tea or coffee whenever we want it; in other countries, particularly in Europe, it can make us save a huge amount of money: finding vegan options in European restaurants it's usually not a problems, but it may be pricey: that's why we love the idea of having our own kitchen and cooking the food that we can find in local supermarkets.
From what we have experienced in the last 3-4 years, the availability of vegan food in supermarkets has increased a lot in Greece, so If you are looking for recommendations for vegan food in Greece this is the post for you!
As we love to visit this country, we have gathered all the information you need to find vegan food in supermarkets, but please remember that Greece is composed by many islands as well as by its inland, and the availability of the products that I'm going to list here may vary from one place to another.
The one word that you need: NISTISIMO
While looking for vegan food in Greece you need to keep in mind this magic word: NISTISIMO (written Nηστίσιμo or NIΣTIΣIMO), which refers to the food allowed during the period of fasting, and it's pretty similar (even if not identical) to a vegan diet.
More than 90 percent of Greeks belong to the Greek Orthodox Church, which observes several fasts during the year.
These fasts​ mean abstinence from foods derived from animals and fish containing red blood (so animals like octopus or sea food are permitted), dairy products, eggs, and at times from olive oil and wine as well.
Strict observers of all fasting periods and fast days will follow these guidelines for more than 180 days a year, but actually the majority  of the population only fasts for Easter.
The good news for us vegans is that nistisimo food  is marked as such in supermarkets, and if it not you have a local word to ask if something to you want to buy is ok for you (you can always say "is it nistimo? No fish no honey")
Moreover, oftentimes vegan products are marked as "nistisimo" on the shelves or on the packaging itself, as you can see on these pics 🙂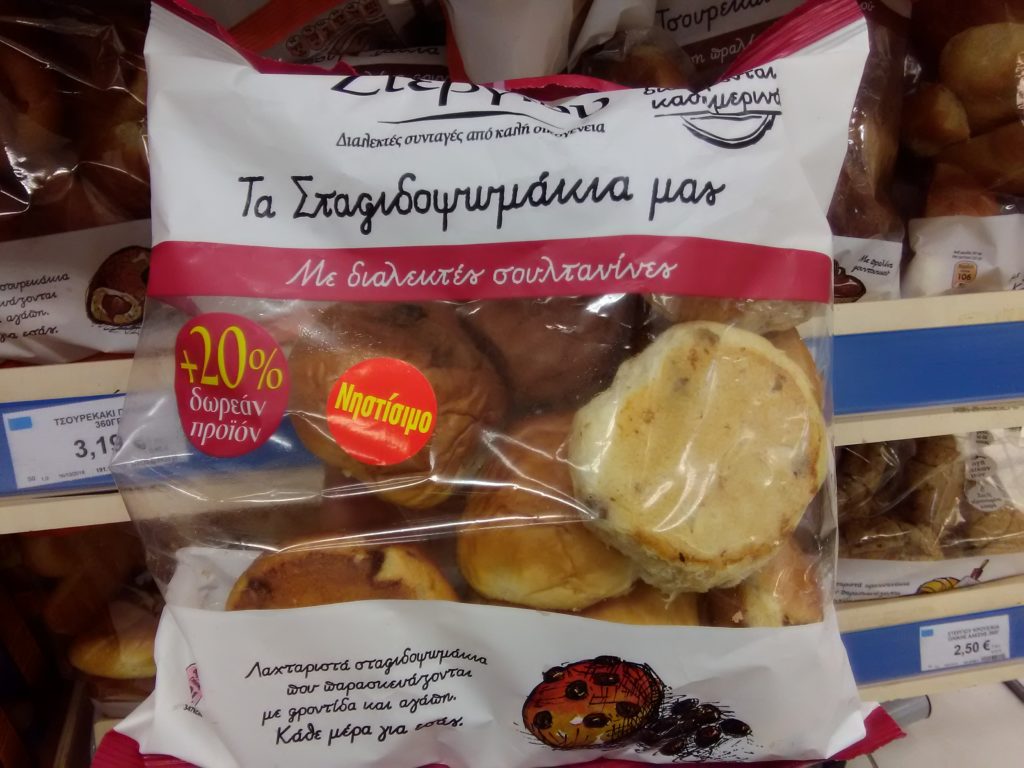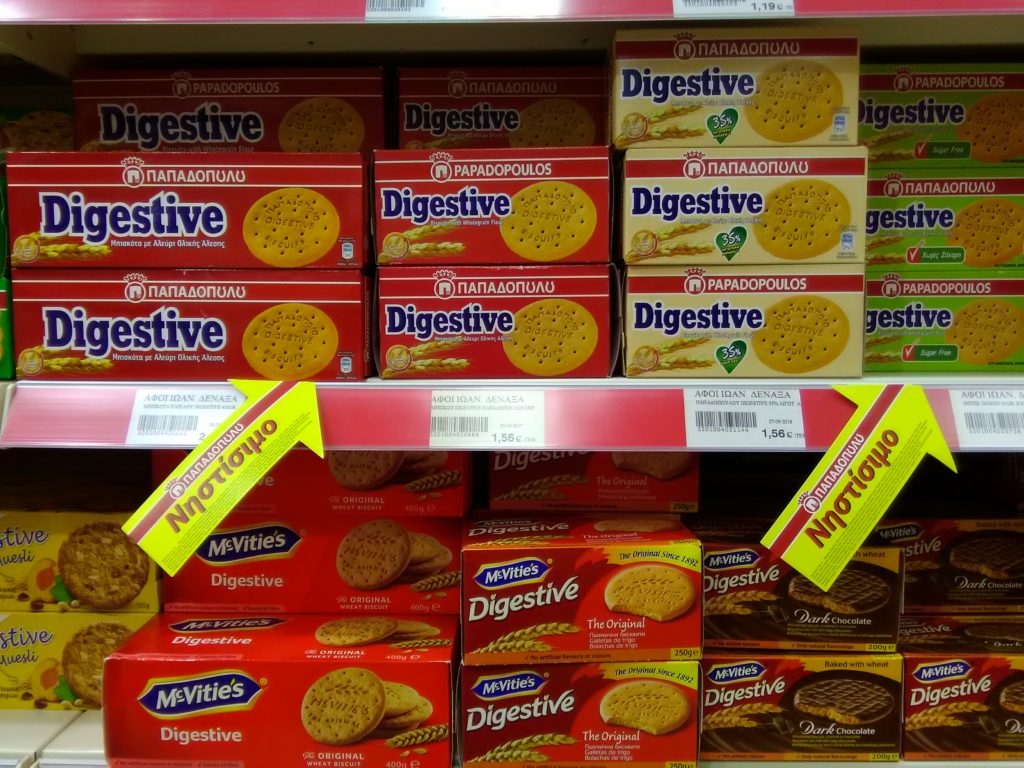 Which kind of vegan food can you find in a Greek supermarket?
Actually I have to admit that Greece has not yet the variety of vegan foods that I found, for example, in Italy, the UK or Sweden...but things are getting better!
You fill find plant based milk, cheese (including feta), sweets and some traditional product that I will list right away.
From my experience I think that mock meat is more easy to find in organic shops than in supermarkets.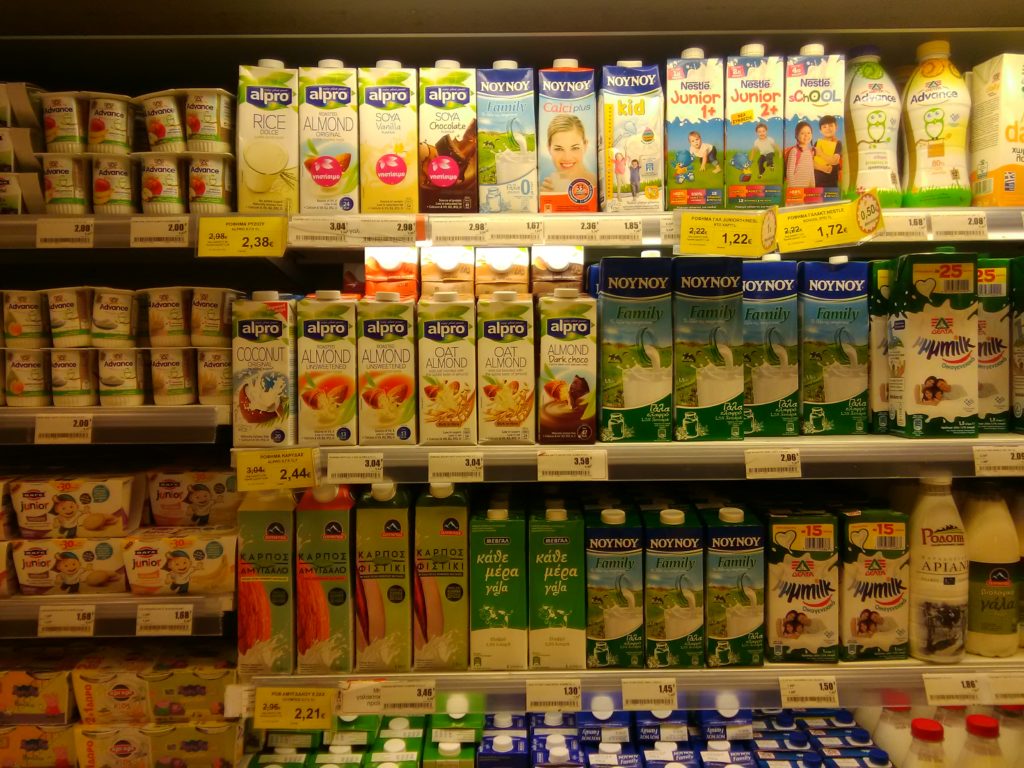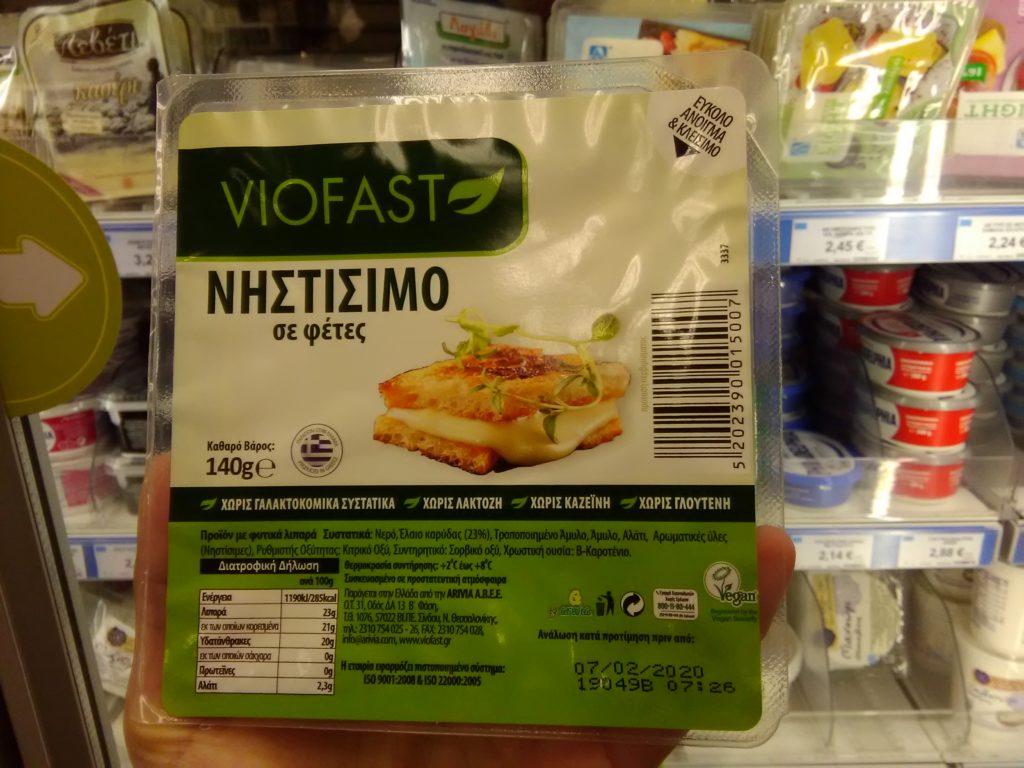 Traditional vegan food in Greece
Many traditional Greek dishes are accidentally vegan, or at least you can find a vegan version of them. These are my favorite ones:
- BAKLAVA
Baklavas are sweets made out of filo pastry filled with chopped nuts and soaked in honey. They may contain butter but usually the don't.
Most of the times you will find them packed in paper boxes for tourists, and these ones usually don't contain butter but are actually soaked in honey, so you may want to buy them or not depending on your position on the subject matter.
If you are lucky enough you will be able to find some baklavas that are totally vegan:
The one from the brand VRETTOS can be found in local corner shops, usually on the counter or close to it (the price may be 1.60-2.00 euros for a 100 gr piece)
The ones from LIDL can be found both in Greece and abroad but with different packaging. When I went to Crete in 2018 I didn't find them in the shops there, but I could in Santorini in 2019...I honestly don't know if they only sell baklavas in some supermarkets and not in others...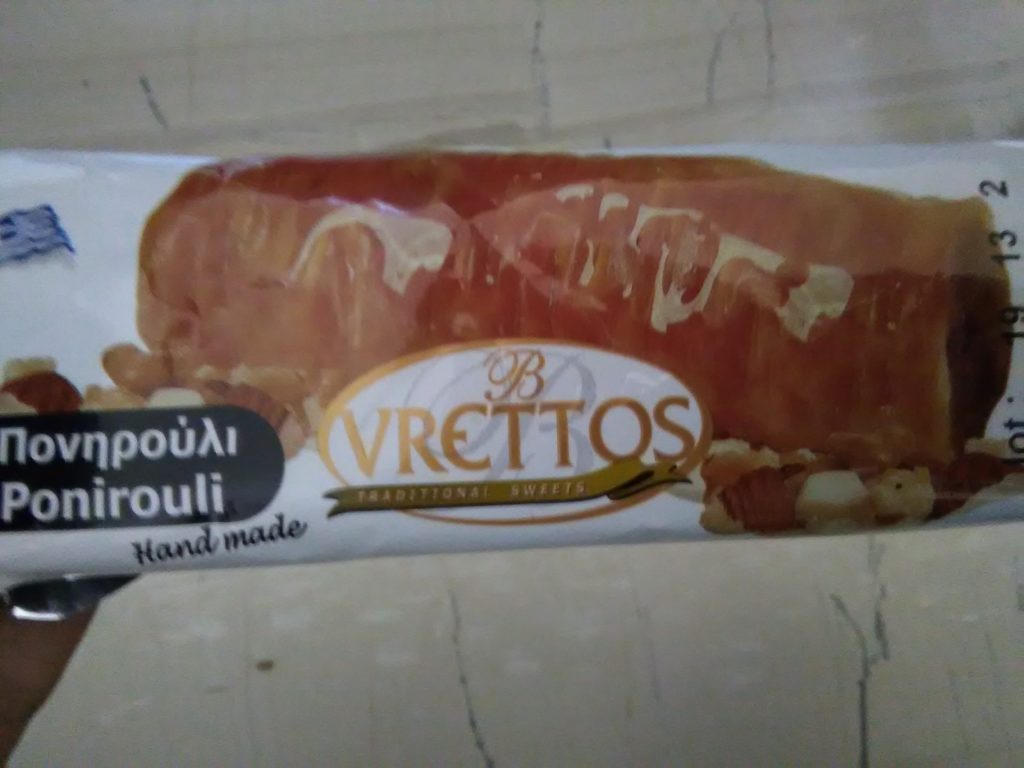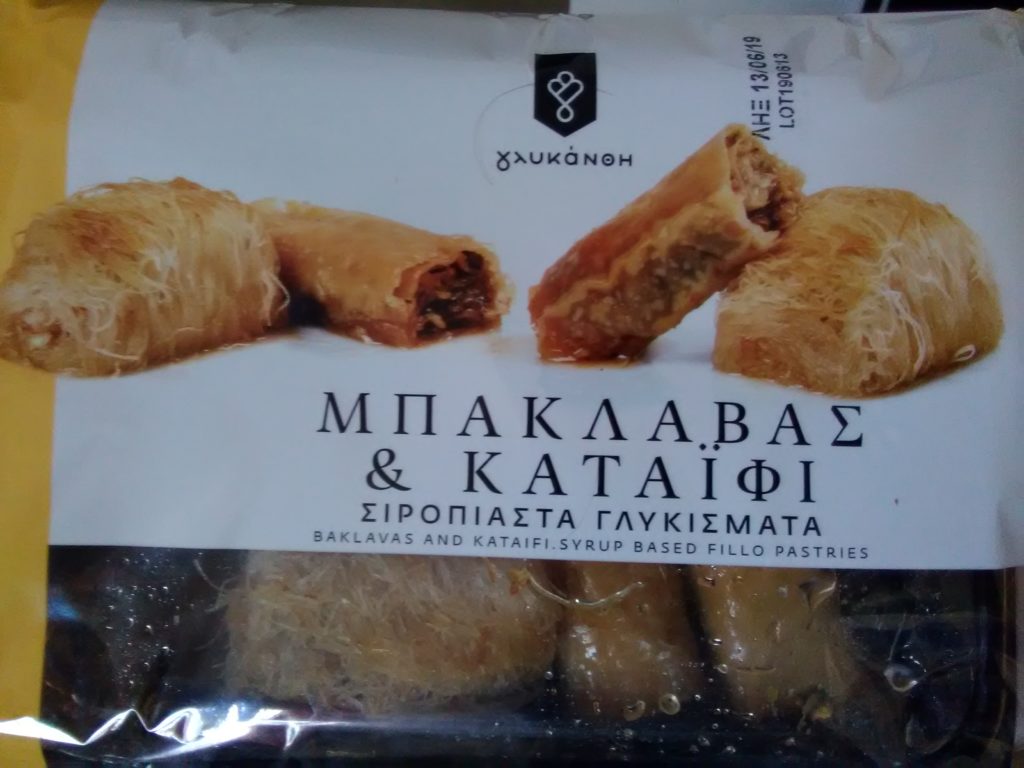 Dolmades
Dolmades (or dolma if it is singular) are a delicious a dish consisting of spiced rice wrapped in vine leaves; it often contains meats so always ask if it is nistisimo.
You can buy dolmades both in restaurants and supermarkets.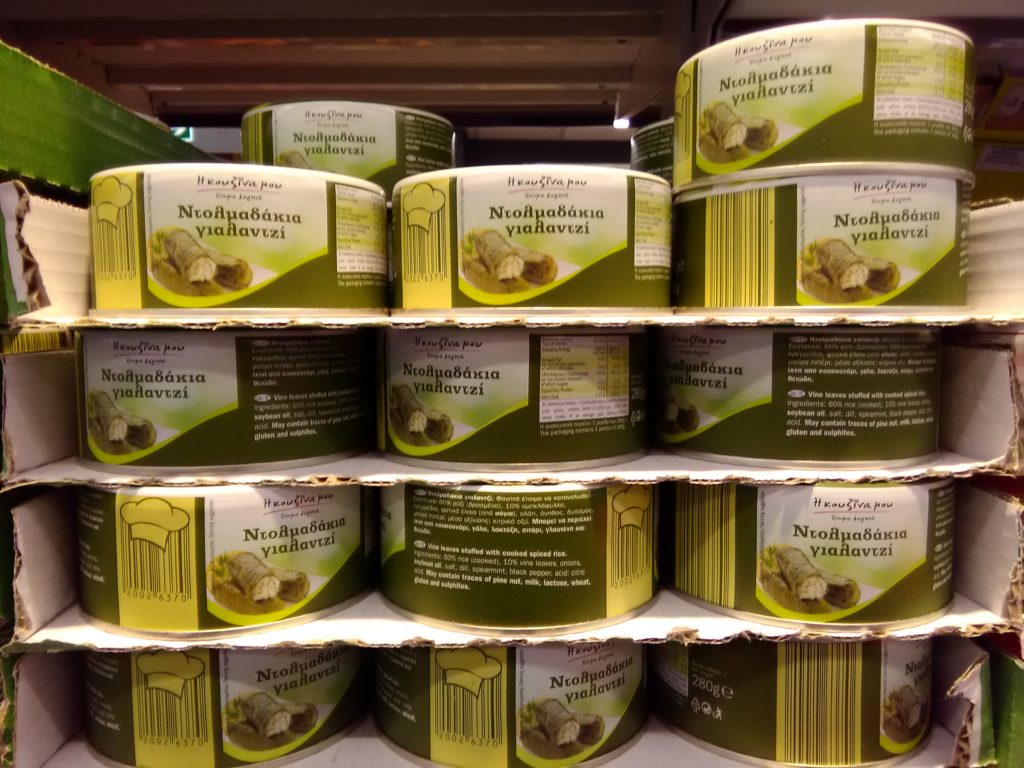 Tahini with chocolate
You may be able to find normal tahini (taxivi or TAXINI  in Greek) in your country, but in Greece you can find it also with chocolate! It's a blast!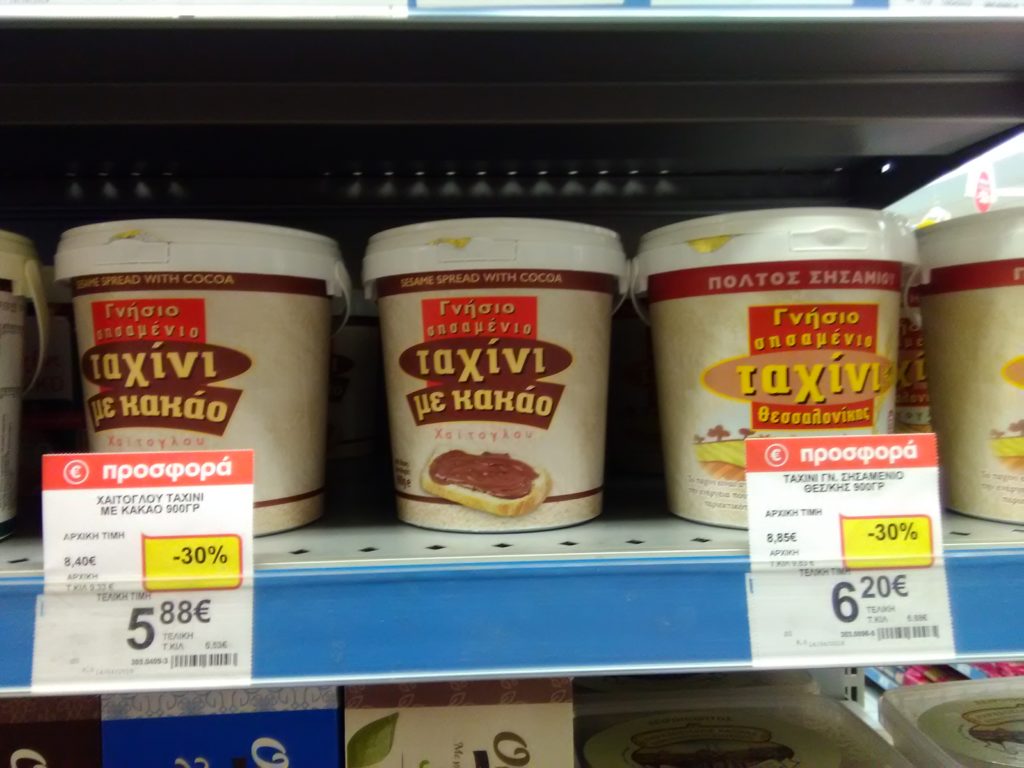 That's all for now! I will update this post as soon as I get new information.
In the meanwhile, you can check out this article if you want to know about vegan food in Italian supermarkets, or join this group to meet fellow people in Greece 🙂
For any question don't hesitate to get in contact with me
(Visited 7,708 times, 1 visits today)