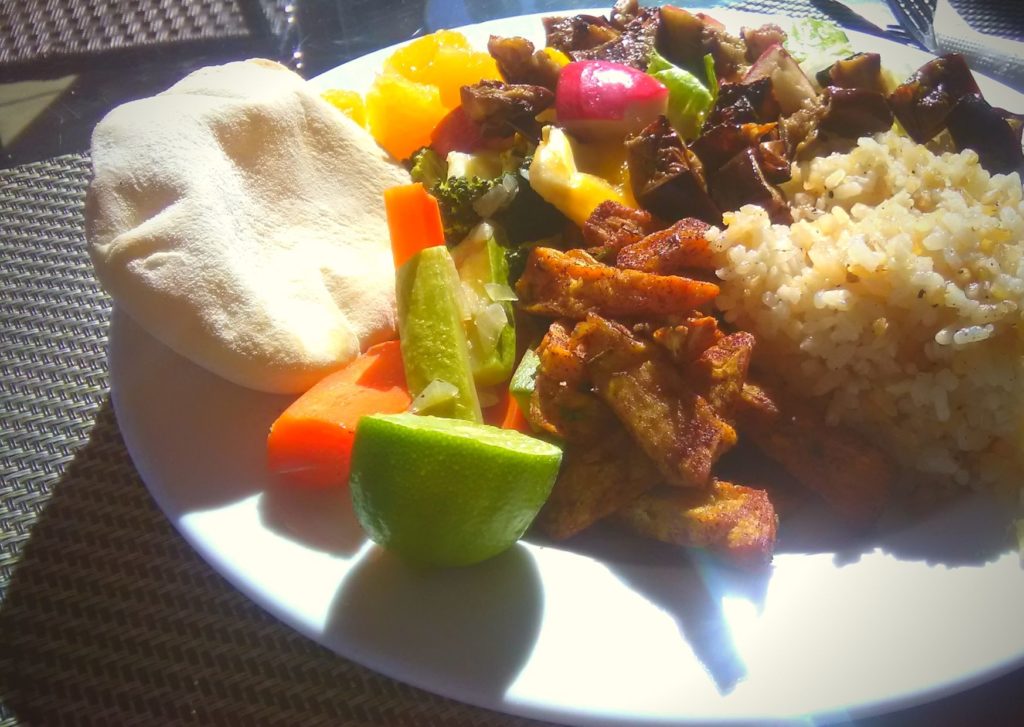 A comprehensive guide on how to enjoy vegan food in the Red Sea area; whether you are staying in Marsa Alam, Hurghada or Sharm el Sheikh you'll have plenty of options. I got myself fill even in the cheapest of the resorts 🙂
Vegan food in resorts
Even if I usually don't like resorts I have to admit that this is not a bad option, especially if you are staying in Marsa Alam. As I explained in a previous post, I dare say this is the only possbility in Marsa, and still an affordable choice in Hurghada and Sharm.
Finding vegan food in the Red Sea area is not an issue at all in resorts, as they usually have a HUGE buffet with plenty of accidentally vegan options.
These are just some examples:
Jolie Beach Resort in Marsa Alam : this is the place where I stayed and one of the cheapest options in the area. Food was ok, not spectacular. I would book again for the price I paid (240 per room per week all inclusive)
Aurora Bay Resort in Marsa Alam : some friends visited both the Jolie and the Aurora Bay and they preferred the food here (both in terms of quality and variety). One week in Christmas costed 400 euros all inclusive.
Royal Tulip Resort in Marsa Alam : my husband spent a week here some years ago; this is a mid range resort and food was delicious, he ate tons of tahin sauce and hummus 🙂
Do you want to share your experience about vegan food in the Red Sea area, or suggest some resort/hotel? Please drop a comment 🙂
Restaurants
If you are are not staying in a resort you may need some restaurants... these ones have vegan options.
Hurghada:
Malu's Deli: a cafe offering a few vegan items like spring rolls, salads, smoothies and juices.
Granada restaurant and pub: offers exotic Mediterranean cuisine in a laid back atmosphere that overlooks the sea. Vegans could possibly order salads, pasta & pizza with modifications
Sharm El Sheikh: 
Fairuz: serves meat, vegan labeled options available. Dishes include baba ganoush, olive salad, stuffed aubergines and tabbouleh.
(Visited 1,172 times, 1 visits today)