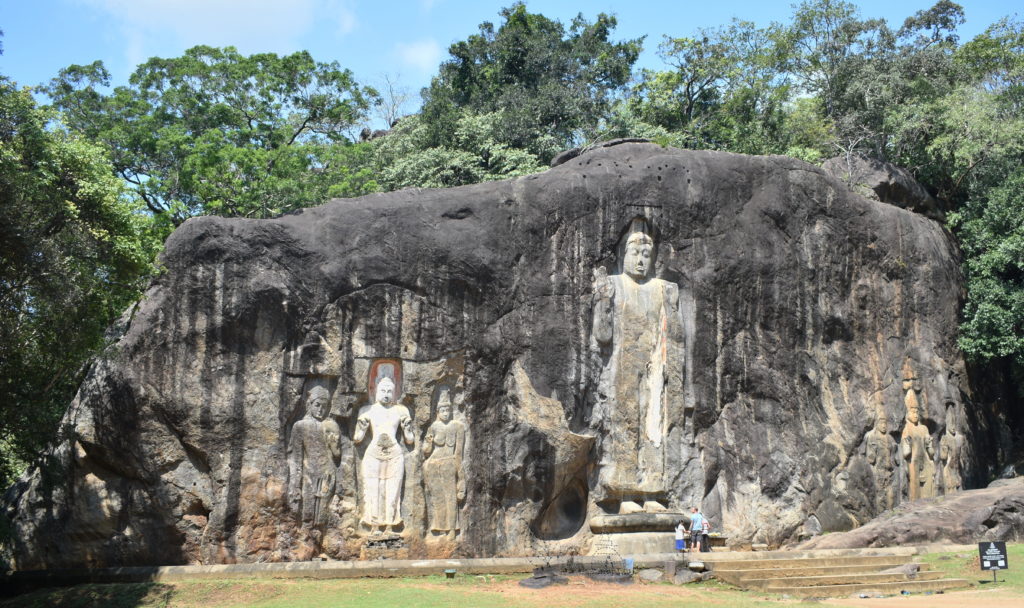 When I got to Ella at first I thought that I just wanted to relax and walk around the rice fields, climb Little Adam and Ella's rock.
Nevertheless, after the first long walk and the first trekking to Little Adam, I thought that I could do something different and look for a cultural activity.
At our guest house we saw a catalog with some organized day trips, and one caught my attention: the Buduruwagala Temple. As it looked a little expensive, I asked to the employee if it was possible to get to the temple with a public bus, and of course he said it wasn't....but guess what? It is actually really easy to go there by bus and you will pay only a few cents 🙂
So, here's my guide on  how to get to Buduruwagala Temple from Ella by public bus and what you will find there
Good to know about Buduruwagala Temple
Buduruwagala Temple is a complex of 7 statues carved in the rock and dates back to the 10th century.
The traces of an original stuccoed robe on the giant Buddha and a long streak of orange suggests it was once finely painted. Other carving bear traces of decorations.
The largest of the standing Buddha statues is 51 feet (16 m) from head to toe and is the largest standing Buddha statue of the island.
Unfortunately, this site does not have much historical records, so we may only suppose that it was originally a hermitage for monks.
Nowadays it attracts mostly local people for worship, so it is an ideal place to visit if you want to stay away from mass tourism.
How to get to Buduruwagala Temple
As I mentioned before, getting to Buduruwagala Temple from Ella with public transportation is very easy and cheap.
Just a take a bus bound south and stop at Wellawaya Junction (the ticket will cost you around 70 rupees/ less than 50 cents); from here ask around for a bus that will stop you at Buduruwagala. The bus will leave you right in front of a small road that leads to the carvings: from here you can either walk the 2 km to the Temple, or grab a tuk tuk (not without negotiating).
We decided to go by foot all the way to the Temple and it was a pleasant walk; on our way back we got lucky and had a lift from a local couple 🙂
One thing that I can recommend is to leave early in the morning as the afternoon can be really too hot to roam around.
Entrance Fee
Entrance fee for Buduruwagala Temple was only 2 dollars in February 2019
(Visited 1,423 times, 1 visits today)